If you have not tried Gingerbread Oreos yet you have no idea what you are missing. Let me fill you in – you are missing a ton of deliciousness. These wonderful but limited edition little gems actually had me a little nervous at first. I was concerned they would have  a "fake" flavor or aftertaste to them. I think that came from the description on the package. It reads "Gingerbread flavor cream". I had no idea what that meant but I gave them a whirl anyway. I am here to tell you that I am so glad I did. They do not have a fake taste at all. They taste like gingerbread.  Yummy!
Once I decided I liked them I knew I had to turn them into at least a couple of Oreo related desserts. The first dessert I decided to add these little beauties to is cupcakes. I followed the directions for my Oreo cupcakes but substituted the gingerbread oreos for the regular ones. Additionally, I changed up the icing a bit by adding ground ginger to my usual vanilla  buttercream. Finally, I topped them with crystallized ginger slices that I rolled flat and then cut with a mini cutter.
I got so many rave reviews from friends and family on these that I decided to make more. It took some time to find more gingerbread oreos but when I did (at my local Walmart) I definitely stocked up. The packages say they are good until April of 2013. I think I bought enough so that I can make one batch per month until April. Not sure what happens in May. I don't want to think about it. I'm just going to enjoy Gingerbread Oreos while I can. You should too!
Ginger Buttercream – I doubled this recipe from Wilton and then began adding ground ginger a 1/4 teaspoon at a time until I liked the flavor.
The ginger slices I used were Grateful Harvest brand and I bought them at my local health food store.
---
I was making cupcakes for a client who had requested chocolate chip cupcakes with Oreo filling. I created a test batch but I was not very impressed with the filling. Then I saw a post from Amanda over at I am baker talking about  the amazing Oreo stuffed chocolate chip cookie from Jenny Flake of The Picky Palate and I thought "why can't I do that with cupcakes?" And so, I did.
Here is the tutorial.
I actually started with a mix. It was Duncan Hines French Vanilla. That's a staple for me. I do,  however, always doctor the mix.  I always substitute apple sauce for 1/2 of the required oil. I also usually short the water by 1/3 of a cup – it just makes the cupcakes more moist.
Once the batter is prepared, add about a tablespoon to each cup.  I also added a sprinkling of mini chocolate chips to each cup.
 Now press one whole Oreo into the batter in each cup.
 Next add enough batter to each cup to cover the Oreos and bake as directed on the package. I always start checking for doneness a couple of minutes before the time on the package. My oven just always seems to run hot. You can always add another minute or two to the timer. It's hard impossible to undo over baked cupcakes.
This is what they look like right out of the oven. Eat them now or let them cool and add your favorite icing. I almost always use some flavor of buttercream. It's an issue for me but I have learned to embrace my shortcomings.
The finished product. I like them. And I love this idea of stuffing an Oreo into a cupcake. Believe it or not, the cookies stay crisp and crunchy. They absolutely DO NOT turn to mush. And with all of the new flavors of Oreos that seem to be making their way to the grocery store shelves, I can envision a whole new world opening up for cupcake lovers everywhere! More to come…until then, keep flourishing!
---
I saw this idea at sheknows.com and thought it was the neatest idea I had ever seen, cookie-wise.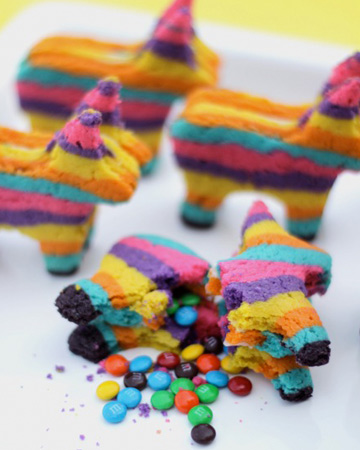 And then there was this post by the incredibly creative Glory from Glorious Treats. They are simply adorable and super cute!

With inspiration like that floating around in my little head, I was longing to give this a try for myself. Problem was, I wanted my own design. Then I came upon these little lovelies and I knew that I had found my inspiration.
And this is what I came up with:
Here is the tutorial.
I made my favorite sugar cookie recipe by Bridget at Bake@350. Then I colored it by separating the dough into 3 bowls and adding gel food coloring. I used Americolor Super Red, Yellow and Orange. Next, I took the dough and portioned it out onto my parchment paper in a patter that would mix the colors together, giving the look of a Fall leaf.
I rolled that out and decided if I need to rearrange and reroll some of the areas. I was trying to get a good mix of colors.
When I was happy with the color structure, I used my leaf cutter to cut out 3 large leaves. From one of the leaves I used the small cutter from the set to remove the center. (For the record, these cookies would be totally awesome if you just left them whole and served them as normal, individual cookies. The beautiful mixture of fall colors is certainly enough on it's own!)
Repeat until you have the number of sets you are working toward. Bake at 350 for 12 – 14 minutes. My oven is crazy uneven so I rotate my pans and swap them from one side of the rack to the other and give them another minute or two. You want them just lightly browned on the edges.
To assemble the pieces, select two whole leaves and one with the center cut out. Put orange royal icing, outline consistency, around the edges of the open leaf.
Flip the open leaf over onto the leaf serving as the bottom to glue them together. By the way, I turned the bottom leaf over first so the flat side was receiving the glue. Don't know why I did this, it just made sense to me.
Once the royal icing "glue" is dry, add the candy. I used Reeses pieces because they are Fall colors and I love them!
Now use royal icing to "glue" the top piece on. Allow to dry, preferably overnight. You could embellish if you like or simply hand them out and make someone's day.
If you would like to win a set of these cookie cutters just visit my Facebook page and click on the Giveaway link. Everyone has 2 chances to win. I'll be picking a winner at 8am on Friday 11/16/12 so that I will have time to get this adorable little set mailed to the winner in time for Thanksgiving! Thanks for all of your support. Keep flourishing!
---
I've had a few questions about how I made this little guy:
I don't have a cutter for him. He is actually a combination of a couple of cutters. Here's how I do it.
I start with a large heart and cut out my cookie shape. Before I bake, I cut the heart in half down the middle and then shape each half into the bird's body.
The next step is to cut out small hearts to serve as the beak and tail feathers. Note: In the bird at the top of the post I only did the beak, not the tail feathers. It's up to you if you include both or not.
Using the same cutters, cut spaces for the beak heart and the tail feather heart.
Finally, carefully place the cut out hearts into the spaces on the bird.
Now bake and decorate as usual. Looking forward to seeing your creations. Until then, keep flourishing!
---
I have been meaning to create this post for months now and just never got around to it. I'm sorry. No really I am. This is a big deal and as a good cookie friend I should have shared it sooner. Shameful.
The whole idea really came into focus on decorating day at CookieCon. In case you don't know, CookieCon 2012  (the first ever annual Cookie Decorating Conference) was held November 1 -3, 2012 in Salt Lake City, Utah. Over 200 cookie decorators converged on beautiful Salt Lake to learn from some of the best cookie decorating experts in the industry.  It was a spectacular event that I will cherish for the rest of my life (or at least until CookieCon 2013!!) Thanks again Karen and Mike of KarensCookies) Love.
So back to my story – on decorating day, we were given the opportunity to try what we had been learning. Supplies included everything anyone could ever want or need for decorating – pastry bags with tips, paint brushes, cookies with and without RI bases, airbrushes, KopyKakes – and small Ziploc bags filled with colored royal icing. As I walked around the room observing the amazing talent in attendance, I saw people doing the strangest things with those ziploc bags full of RI. They were cutting the ends off and dumping them into the pastry bags! I was aghast and also mad at myself for putting off the post about Ziplocs. Slacker.
I did what I could to educate the folks in the room, some of whom looked confused by the Ziplocs. Many were a little stunned at first (who the heck is this person?) but ultimately really appreciative.  And so, here is the long awaited post. Finally.
I use sandwich size Ziploc bags which I almost always buy with coupons. I guess you could use another brand. I have just always used these because I am comfortable with the quality. I also use a highball glass. Empty of course.
Place one of the corners of the bag into the glass.
 Fold the top of the bag over the glass.
Fill the bag with icing.
Take the bag out of the glass and zip it closed. This is important. If you forget to close it tightly you will get leakage in the piping bag, which kind of defeats the purpose.  Also, be sure to get out as much air as you can. Finally, try to keep one corner clear of icing. It just makes the next step easier.
Now grab your piping bag with a coupler in it and fold the bag way, way back to expose as much of the coupler as possible.
Now take your icing bag and make one of the bottom corners into a point.
Push that point into the coupler.
Now hold the end that you pushed through the coupler and roll the piping bag back over the Ziploc filled with icing.
Use a bag tie to close the piping bag, snip off the end and attach the coupler ring.
The real beauty of this method is how easy it is to store your icing when you are done decorating.  Make a trip to the local Dollar Tree to get yourself some of these clips.
I prefer these "Power Clips" because they are wider at the base, but not too wide like a chip clip. When finished decorating, undo the coupler and the bag tie and remove the Ziploc full of icing from the piping bag. Using one of the clips simply clip off the cut end.
I do this to all of my leftover icing. When I have them all clipped off, I put them into a larger storage bag for safe keeping.
It's up to you how you store them. You can refrigerate them or you can freeze them, according to one my new pals from CookieCon. I have not tried that yet but have plans to soon. I will let you know how it goes. Until then, keep Flourishing!
---

What To Do With All Those Mangoes…???
If you are like me then you have access to lots and lost of fresh mangoes this time of the year. My neighbor has a couple of trees that are producing tons of fruit right now. And don't get me wrong, I am VERY appreciative of the generous gift. But I am running out of ideas of what to do with all of these mangoes. Suggestions are greatly appreciated.
Here is the list of mango desserts I have tried:
Mango fritters – Recipe and Post forthcoming!
Mango ice cream
mango bread pudding
Mango smoothie
Mango Key Lime pie
Speaking of Mango Key Lime pie – I had to make it. Not just because we are fans of Key Lime Pie in my house but because I had a pie when we were in the Keys that was called Mango Pie. It was the consistency of Key Lime Pie, just full of rich mango flavor. I've been waiting for the opportunity to try and make it ever since that vacation 2 years ago.
And so, without further adieu…
Mango Key Lime Pie
(adapted from food.com)

For the Graham cracker crust
Option 1:
2 cups graham cracker crumbs
1/3 cup confectioners' sugar
6 tablespoons butter, melted and cooled
Option 2:
Buy a ready made graham cracker pie crust (This is the option I chose, btw.)
For the Filling
1/3 cup mango, pureed (Not sure how to peel a mango? Here is a great pictorial!
6 egg yolks
1/2 up key lime juice (regular limes will work, too)
2 (14 ounce) cans sweetened condensed milk
1/2 cup mango, diced
For the topping
2 cups whipped cream
1/2 cup granulated sugar
Directions:
Preheat oven to 350 degree.
Make crust: in large bowl, combine cracker crumbs, sugar, cinnamon and butter; mix well. Press mix into a 10-inch pie pan, sides and bottom. Set aside.
Make filling: in a food processor (or blender) process mango until pureed. Add egg yolks, lime juice and the two cans of milk. Mix, combining well. Fold in the diced mango using a rubber spatula to keep the mango intact.
Pour mixture into crust and bake for 20 to 25 minutes. Remove and cool pie completely. Keep refrigerated until shortly before serving. Top with fresh sweetened whipped cream.
I have made this pie both with the lime and without it and I love them both!
---
There are so many amazing bloggers who inspire me. I see their work and their creativity and wish I could grow up to be just like them, minus the growing up part. One of those bloggers is Heather Baird over at SprinkleBakes. Her work is simply gorgeous. One of her latest creations, Pumpkin Brown Butter Cupcakes with Cinnamon Icing, caught my eye the minute I saw the post. So, I borrowed it. Well, I changed it a bit, too.
Mine are mini cupcakes because I have a terrible issue with food guilt. Eating an entire regular-sized cupcake will keep me up all night with eater's remorse, so I try to make minis whenever possible. The only things I changed in Heather's cake recipe are the size of the cupcake and the oven temp. I did a little research and discovered that the best and easiest way to go from a regular cup to a mini cup is to lower the oven temperature by 15 to 20 degrees. Who knew? I set mine for 330 degrees and they came out perfect after 18 – 20 minutes.
The other change I made was the icing flavor. Not that I wouldn't have loved to taste the cinnamon icing she suggests, because believe you me I would. It's just that I was craving caramel and I happened to have this can of Nestle's Dulce de Leche that I have been saving for just the right occasion. Well this was definitely it! Enjoy.
Dulce de Leche Icing
2 sticks of softened butter
1/2 cup Dulce de Leche
1 tsp vanilla
1 box of Confectioner's sugar
(1 tsp cinnamon, if desired, as an homage to the original recipe)
Blend all of the ingredients in order until smooth.
---